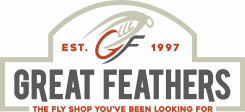 Your cart is currently empty
Product image slideshow Items
Fishpond Lariat Gear Straps
Article number: 210000004740
KEEP YOUR ROD TUBES SAFE AND SECURE WITH THE LARIAT GEAR STRAPS.
SPECS
Weight: 0.15lbs
Dimensions: 14"x1"
Useable Length: 4.5"-11.5"
Whether you are hustling through the airport or bashing through the underbrush on the way to the river, you can't afford to leave anything behind. Keep your rod tubes safe and secure with the Lariat Gear Straps. But, the functionality doesn't stop there. These highly durable straps can be used to bundle clothing, lash gear to raft frames and even make the unexpected on-river repair.