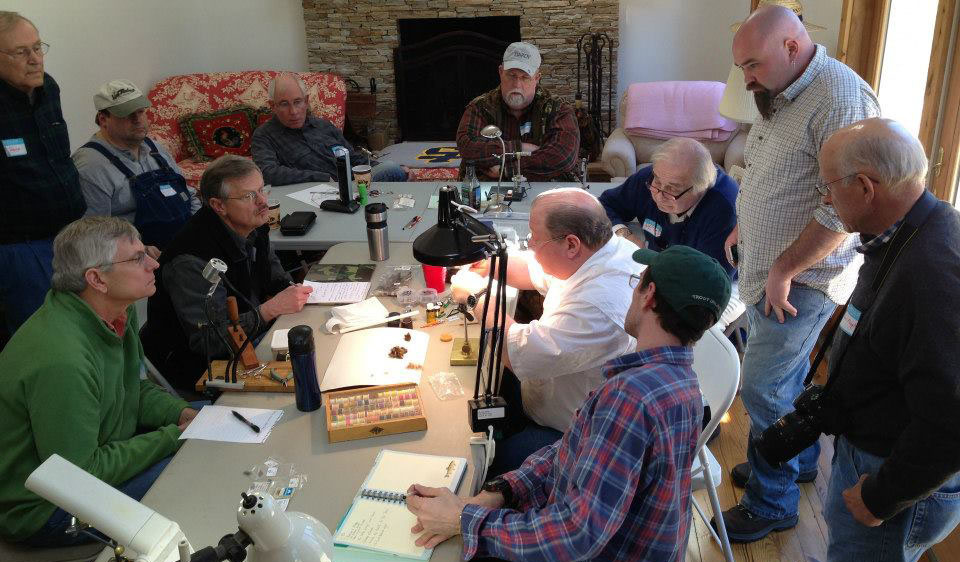 Great Feathers offers a variety of educational classes and seminars for fly fishermen. Our repertoire includes fly tying classes, fly fishing classes and guide trips, and classes from professional fly tyers. Our classes are offered throughout the week, on a first come first serve basis. We host professional fly tyers for weekends at a time to tie specific patterns whether classic, show, or specific to our local river, the Gunpowder.
Our fly tying classes are hourly and cover all topics, beginner to advanced. We help novices of all age ranges get their feet wet with our introduction classes, and facilitate the growth of intermediate and experienced tyers with our advanced classes. From Wooly Buggers to Salmon Flies, our staff of accomplished fly tyers are more than willing to help you improve your flies. With an attention to detail and a dedication to helping our students, we pride ourselves on our fly tying abilities and opportunity to share.
We host many different fly fishing classes here at Great Feathers as well. Our most popular to date is our Groupon class which is a two hour introduction to fly fishing. We cover basic entomology, the in's and out's of fly fishing, the difference between fly fishing and spin fishing, and casting. Keep an eye on Groupon, we do it annually. Other classes, like our fly tying classes, are offered on a first come, first serve basis and are hourly. We are happy to help you work out any kinks in your cast, or take you down to the river to show you how to roll cast, or improve your mends. We recommend guided trips to most beginner customers to truly understand what it is to truly fly fish. There is only so much you can learn by casting on a lawn. Our licensed guides have hundreds of trips between them and impart an education you can only learn streamside. There is only one way to learn how to play a fish!
Some of our most popular educational classes involve professional fly tyers, most recent and notably, Don Bastian and John Shaner. Our intimate classes are kept to 8-10 people a class and provide a great environment for improving your tying techniques. These classes are primarily for the advanced tier, but there is something for everybody in each class provided. There is nothing like learning from someone who does what you strive to achieve for a living.
We charge $60 an hour for our individual fly casting, tying, and fishing lessons. The classes with professional tyers change with each celebrity tyer but normally run about $75 for a full day of tying.
We also have a wide variety of educational hand outs such as hatch guides, and river reports and we are happy to share up-to-date knowledge on what's been working on the river. Don't be a stranger; come on in, Millie, the Shop Dog, will be more than happy to see you.
JOIN
FLY FISHING CLASSES

Never fly fished before? No problem! Join our two-hour beginner's class for as low as $50.

HIRE
FISHING GUIDE

We can get you on the river with one of our guides. We provide the rods, reels, waders, flies - all you need to do is bring yourself.

HAVE
A QUESTION?

We've got an answer! Shoot us a message and we'll reply to you as soon as possible.

CONTACT US