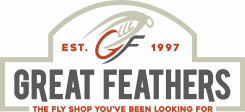 Your cart is currently empty
Product image slideshow Items
Orvis Neoprene Wet Wading Guard Socks
Article number: 210000005691
Wet wading during the warm months of summer is one of fly fishing's great pleasures. With these Neoprene Guard Socks you can wear your regular wading shoes while wet wading with the comfort and security you expect.

These sculpted, anatomical wading soc
Wet wading during the warm months of summer is one of fly fishing's great pleasures. With these Neoprene Guard Socks you can wear your regular wading shoes while wet wading with the comfort and security you expect.
These sculpted, anatomical wading socks of 2.5mm neoprene give maximum comfort on the river, replacing your normal wader bootie when the weather turns warm, you can ditch the waders, and enjoy the option of wet wading. Reinforced boot lace hooks for secure attachment. Integrated gravel guard keeps out debris and gravel. Neoprene wading socks in black/gray.
Washable. Imported.
Sizes S(7-9), M(8-10), L(9-11), XL(10-12) and XXL(11-13).