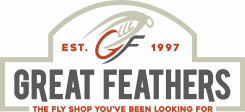 Your cart is currently empty
Product image slideshow Items
Razor Midge Kit
Article number: 210000004910
The Razor Midge is an easy-to-tie, effective foam midge pupa pattern. Having foam in its construction it does not require any fly floatant to float the fly.

This kit includes materials to tie 24 Razor Midge flies at a fraction of the cost of buying th
The Razor Midge is an easy-to-tie, effective foam midge pupa pattern.  Having foam in its construction it does not require any fly floatant to float the fly.
This kit includes materials to tie 24 Razor Midge flies at a fraction of the cost of buying them in a store.
Each kit includes:
24 Premium Lightning Strike Hooks
3 colors of translucent Razor Foam
Midge Flash
Dubbing
Clear, step-by-step fly tying instructions.