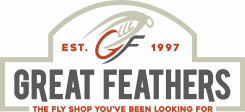 Your cart is currently empty
Product image slideshow Items
SS DB Baitfish Popper-White #1/0
Article number: 210000004449
The Ultimate Baitfish Popper.
NEW Black & Purple colorway now available!
Design by Martin Bawden.
Hammer a wide range of freshwater and saltwater species with the new Double Barrel Baitfish Popper. This universal, highly effective popper imitates a typical baitfish being pursued (and eaten) by your favorite predatory gamefish such as striped bass, redfish, GT's, false albacore, pike, peacock bass, smallmouth and largemouth bass.
No need to worry about it getting damaged and becoming unfishable – the Baitfish Popper is tied with synthetic materials, its body is coated with flexible epoxy rather than fragile hard epoxy, and it's designed to be virtually indestructible (see the video below in which we run over a Baitfish Popper with a truck).
Powerful Popping Action
The deep front cup and extended top lip of the foam Surface Seducer Double Barrel body allow you to effortlessly trigger loud pops with strong splashes when working your fly.
Toughness and Durability From Synthetic Materials
The "soft-bite" foam Double Barrel popper body with a flexible epoxy coating, a bite-proof Faux Bucktail tail, and Living Eyes provide lifelike realism and an additional trigger for predatory gamefish. This popper is designed to take a beating from being fished hard and often!
Target a Wide Variety of Species
The range of sizes from #2 to 5/0, the stainless steel hook, and the universal baitfish design give you the ability to effectively fish the Baitfish Popper in a wide range of freshwater and saltwater fishing situations.