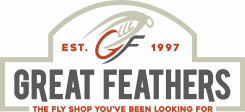 Your cart is currently empty
Product image slideshow Items
UTC Ultra Wire
Article number: 210000003896
In stock
$3.60
-- The hottest material in fly tying
-- Essential for tying the Copper John
-- Awesome for ribbing, weight, flash, wire, and dubbing brushes
-- The hottest material in fly tying
-- Essential for tying the Copper John
-- Awesome for ribbing, weight, flash, wire, and dubbing brushes
The hottest material in fly tying!
Ultra Wire is a key ingredient in so many successful fly patterns that it may just be not only the hottest material in fly tying but one of the most often used materials. Most everyone knows that Ultra Wire is the essential material needed for tying John Barr's famous Copper John nymph, but it can also be used several different ways:

The original use for Ultra Wire is as a rib on a nymph. Gold Ultra Wire is ideal for Hares Ear nymphs or similar patterns. Black and Brown Ultra Wire are often chosen as a rib on stonefly nymphs. Ultra Wire is also great in the smaller sizes for tying even the smallest midges. Need to tie a size 28 Zebra Midge? Then look to the XS size which is ideal for ribbing size 22 or smaller flies.

Flies can be tied completely out of Ultra Wire if you desire. Karl Schmuecker's Iron Midge is simply an all wire version of the famous Brassie. It is tyed with nothing more than Ultra Wire wrapped on the hook then coated with epoxy. If you want to "get fancy", you can wrap a nice head of thread in front of the wire. The Iron Midge works in the same situations in which a San Juan worm is most effective. Because the fly is nothing more than Ultra Wire and epoxy, it sinks like a rock and is an awesome pattern for deep, fast water.

For a unique look, try wrapping two different colors of Ultra Wire together making a banded, segmented body. Another neat trick is to insert a piece of Ultra Wire into clear or colored stretch tubing. When wrapped, this makes a wild looking segmented body.

No matter what type of fly you are tying there is a size or color of Ultra Wire that is ideal. Since Ultra Wire is a non-tarnishing wire, the colors will remain rich, vibrant, and bold long after your flies have been tied. You can expect their color to remain true for their entire life in your fly box.